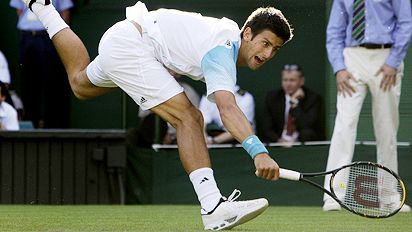 Novak Djokovic was upset in straight sets by Marat Safin in the second round at Wimbledon on Wednesday, ending the Serb's chances of testing his theory about Roger Federer's vulnerability.
The 75th-ranked Safin won 6-4, 7-6 (3), 6-2 on Centre Court. It was a stunning loss for the third-ranked Djokovic, who came to the All England Club confident after beating top-ranked Federer in the semifinals at this year's Australian Open en route to his first Grand Slam tournament title.
The 21-year-old Djokovic came up against one of the toughest second-round opponents he could have drawn.
Former No. 1 Safin has won two Grand Slam titles. One came when he upset Federer in an Australian Open semifinal en route to the 2005 title. Safin beat Djokovic in the first round of that tournament -- their only previous meeting.
"It was certainly a very bad day for me," Djokovic said. "I didn't do anything that I was supposed to -- he was very solid in all segments."
Djokovic had said Federer, bidding for his sixth consecutive Wimbledon crown, was vulnerable after his recent lopsided French Open loss to No. 2-ranked Rafael Nadal.
The hype surrounding those comments set up an enticing semifinal here. Now, it will be Safin who tries to go down that path.
Novak Djokovic appeared a shadow of the player who won the Australian Open and reached last year's Wimbledon semifinals.
Safin said he came in under the radar, with Djokovic under all the pressure.
"He's the one who has to win matches. For me, nobody expects anything," said Safin, who admitted he had not dared look beyond the second round. "Now, I'll have to check -- the way I'm playing now, I could go far."
He next plays 29th-seeded Andreas Seppi, who beat Florent Serra 6-3, 6-7 (4), 6-2, 6-7 (5), 6-4.